Hydromantis Blog
---
August 29, 2012
WEFTEC 2012 | The Super Bowl of the Water Conferences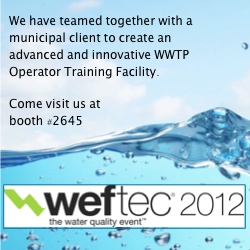 Join us in New Orleans for the biggest water conference worldwide. WEFTEC 2012. From September 29 to 0ctober 3, you'll have an opportunity to reconnect with industry peers, make new contacts and learn first hand from leading industry professionals.
This year Hydromantis will be sharing a booth with a municipal client. Take some time to stop by and learn more about our recent collaboration with our client in creating an advanced Water/Wastewater training center. A dedicated facility committed to supporting technology and innovation that improves Water and Wastewater Operations and features Hydromantis' SimuWorks™ state of the art operator training and development platform developed with data from working Wastewater SCADA and information systems.
Participating in WEFTEC 2012 means you'll be among the first in the world to view the latest, cutting-edge technologies; earn continuing education units (CEUs ) by taking part in workshops, and network with over 18,000 of the world's most prominent water and wastewater professionals.
Hydromantis is pleased to be involved in the following technical presentations as part of WEFTEC 2012.
Sign up for any of the seminars below with your WEFTEC Planner.
Sustainable Aeration Practice | Saturday, September 29 | 8:30am – 5:00pm
New Orleans Morial Convention Centre-Room 345
Dr. Snowling discusses how Sustainable Aeration Practice provides designers, operators, utility administrators, consultants, and researchers with the theoretical and practical fundamentals to improve efficiency in aeration systems and decrease their energy usage.
A Model for Improved Operations | Monday, October 1 | 1:30pm -3:00pm
New Orleans Morial Convention Center-Room 355
Hank Andres will present Hydromantis' SimuWorks, a cost-effective model based Wastewater Treatment Plant simulator that provides advance operator training and education, optimization, sophisticated project and operational risk analysis and key decision-making support for all levels of management.
Counting Greenhouse Gases: Changing Your Operational World | Tuesday, October 2 | 8:30am – 12:00pm
New Orleans Morial Convention Center-Room 353
Rajeev Goel, Hydromantis VP of Technology, will discuss the release of a newly created APP that extends the dynamic modelling capability of GPS-X™ with carbon emissions models offers wastewater professionals an advanced tool to evaluate optimum plant configurations or operational strategies to reduce greenhouse gas emissions and generate offsets.

Biosolids As A Resource | Wednesday, October 3 | 1:30pm – 5:00pm
New Orleans Morial Convention Center-Room 353
Hugh Monteith, world renowned for his research microconstituents (MCs) or micropollutants (MPs) and the fate of MCs in various sludge and biosolids treatment processes, will present findings from a Canadian study that he lead: Microconstituents in Biosolids Treatment: A Canadian Field Study.
WEFTEC 2012 promises to be an informative, educational and industry changing weekend and we're looking forward to connecting with you at the conference.
---
July 31, 2012
Wastewater Treatment Plant Simulation and Who Benefits
Modelling and simulation of wastewater treatment facilities has practical uses beyond capacity planning and training requirements.
In the water and wastewater management industry, there are not a lot of opportunities to "practice" real life conditions before we make million dollar decisions. Regional and city governments and water authorities routinely make capital decisions based on a less than perfect understanding of future capacity and infrastructure requirements.
Recruiting and the transfer of plant knowledge to address the looming operator shortage, and plant capacity and energy consumption are top of mind for most plant managers. The advantages of Water and Wastewater Treatment Plant (WWTP) modelling and simulation are beginning to be recognized within the industry but the advantages of a software like Simuworks has utility and benefits beyond that of the plant operators.
Urban Planning
City planners and wastewater management officials can work together to support infrastructure growth requirements. In addition to planning for projected capacity, municipalities can plan for the effluent flowing from new production facilities under a variety of scenarios to test energy requirements, ability to treat the industrial wastewater and any other additional costs or overhead that may be associated.  This allows for all parties involved to understand the impact on existing infrastructure. 
Plant expansion and new construction created hundreds of jobs in the two examples below, only to leave one city at capacity with limited growth potential and the other with unforeseen costs.  Simulation could have revealed, through testing a variety of scenarios, potential risks or exposure and associated costs not typically caught in capacity planning.
Northampton Massachusetts is a home to a Coca-Cola plant that produces several of their fruit juice lines. When Coca-Cola decided to expand their facility they were hailed for the additional 100 jobs they created.  However, Coca-Cola's pre-treatment facility has had problems with managing their effluent, putting the burden on the city. Despite Northampton's $1.5 million dollar capacity upgrade the sugary effluent is difficult to treat and has resulted in additional costs for the city.
Twin Falls Idaho celebrated the news that a new Greek yogurt facility that would result in hundreds of jobs for the area. However, with their treatment facility running at 90% capacity the city will need to carefully consider future growth and the types of industries they wish to attract.
Maintenance Planning
Regular maintenance should result in improved plant reliability and increased economic efficiency. The ability to evaluate the impact of taking key processes or equipment off-line against various scenarios reduces the margin of risk when planning for preventative maintenance. In the scenario below, simulation could have been used in planning for the pump station going off-line to allow for the replacement of the older pump with the least amount of disruption. It could further be used to create contingency plans with respect to the current work-around of re-routing wastewater and that additional load placed on the two other pumps.
Up to 700,000 gallons of wastewater was released into the Mississippi River after a pump failed due to wear at a Sauk Rapids lift station. It took 18 hours before crews could reroute the wastewater and it is unclear how long it will take before the replacement pump will be installed. 
Forensic Analysis
Extenuating circumstances can sometimes stack the odds against even the tightest run ship. Heavy rains, power outage, pump failure … how plant operators react and any subsequent release or spill can result is substantial fines and associated legal fees. SimuWorksTM can be used post event to demonstrate that your operators handled the situation as per established protocol and how alternate responses could not have yielded a difference outcome.  
Urban planners, maintenance management and regulatory personal can all benefit from WWTP modelling and simulation. This unparalleled insight allows for improved planning and risk management capability that results in the opportunity for municipalities to save millions of dollars of capital expenditure as they grow to meet constituent needs.

---
June 11, 2012
The First Step to Improving the Wastewater Industry's D minus

The American Society of Civil Engineers (ASCE) has given wastewater treatment plants a failing grade in its Report Card for American Infrastructure. The organization cited the industry's aging systems "which discharge billions of gallons of untreated wastewater into U.S. surface waters each year" as the main impetus for the D minus grade.

Furthermore, the report takes note of the fact that The Environmental Protection Agency estimates a staggering $390 billion must be invested over the next 20 years to update or replace existing systems in order to meet increasing demand.

Fortunately, modelling and simulation software provides an economical and efficient means to determine a wastewater treatment plant's best course of action in improving its infrastructure and, ultimately, improving its grade.

Instead of building for overcapacity, which is an easy but exorbitant solution, a wastewater treatment plant manager can run models to assess the plant's current capacity and verify how much more is required to keep pace with growth. They can also use modelling and simulation software to plan for upgrades and expansions before investing in expensive technologies that may not in fact be required.

For example, a plant manager who has limited space for expansion may consider converting existing tanks to a membrane bioreactor (MBR). Modelling can assess the MBR's viability, from its effect on effluent quality to its space requirements and future energy costs.

What's even better? A calibrated model will provide a valuable resource time and again, as a tool for planning and maintenance, as well as training and development.

With budgets already strained, modelling can play a vital role in helping plant managers explore their options and ultimately achieve significant infrastructure enhancements in the most cost-effective manner possible.

Written by Hydromantis Environmental Software Solutions, Inc.
---
April 26, 2012
Wastewater Treatment Modelling and Simulation Now More Imperative Than Ever
Founded 27 years ago, Hydromantis was the first company to develop modelling and simulation software for the wastewater treatment industry. Since then modelling has become a standard tool for design and build applications. As a result, many industry participants assume the marketplace is mature. On the contrary, the current global water crisis has pushed modelling to the forefront. In fact, now more than ever we are positioned to experience the full value of modelling tools. There are several reasons why:
The industry's workforce is aging. In fact, it's estimated that almost half of water and wastewater operators will retire in the next five-to-seven years. Modelling offers an opportunity to capture the process knowledge they've gained over their careers and pass it on to younger generations, many of whom expect a tech-savvy approach to training and operations and will be comfortable with advanced modelling interfaces.
It's not just the workforce that's aging. An aging infrastructure has become another significant factor, particularly in the United States. While suburban sprawl was once the norm, today's municipalities are facing considerable population growth, which causes stress on infrastructure. At the same time, municipal governments are working with limited budgets. As a result, it has become more imperative to achieve optimization within municipal wastewater treatment plants. Modelling allows plant owners to monitor plant capacity as population or influent characteristics fluctuate, evaluate tactical versus strategic upgrades and assess overall plant risk against many different potential scenarios.
The global concern over worldwide water scarcity has led to tighter regulations and rapid innovation, which in turn has stimulated the need to test and validate new operational strategies and technologies.  In such cases, it is too risky to introduce new plant equipment without first modelling it to determine its feasibility and impact. Therefore, as the industry continues to innovate, modelling will have an increasingly significant role to play.
The good news is that as the need for modelling has increased, modelling tools have become more refined; today's easy-to-use, drag-and-drop interfaces are able to provide improved accuracy.
But don't just take our word for it. As Kevin Frank, Wastewater Process Engineer at AECOM, says the GPS-X Mantis2 Biological Model's "new and more detailed influent characterization framework … coupled with the extensive array of dynamic state variables and process rate equations proved to represent both aerobic and anaerobic treatment performance extremely well."
Written by Hydromantis Environmental Software Solutions, Inc.
---