Before We Start
NOTE: This process is for the software protection license that doesn't use a hardware dongle. If you aren't sure if this applies to your situation, please contact us for confirmation.
Check that the license is installed properly on the server:
On the server, go to this local website: http://localhost:1947/_int_/products.html.
Confirm that the product (ie. GPS-X, Toxchem, CapdetWorks, etc) is listed on that site.
Make sure that a firewall isn't blocking the communication on port 1947 between the client and server computers and add the Sentinel License Manager (C:\Windows\system32\hasplms.exe) to the firewall exception list.
Specify the IP address of the server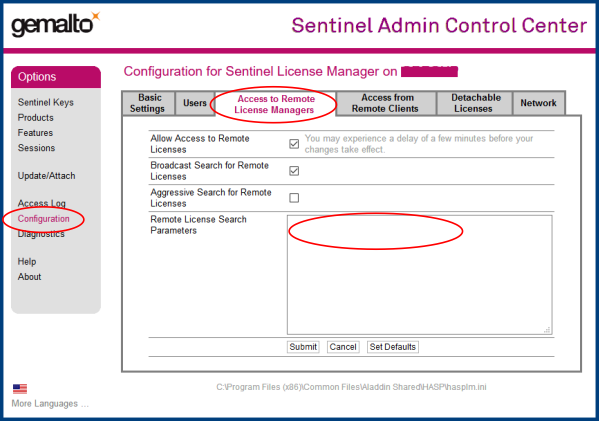 By default, the client will send out a general broadcast to the network to see if there is an available license. However, depending on how your network is setup, this may not be successful.
To explicitly specify the IP address of the server:
On the client, go to this local website: http://localhost:1947/_int_/config.html
Click on the "Access to Remote License Managers" tab.
In the "Remote License Search Parameters", enter the server IP address.
Hit the "Submit" button.
Wait a minute or so for the change to take effect.
Browse to the "Products" page (see the menu on the left side of the local website) and the product should now be listed.
FYI: The location of the file where that info is stored is shown at the bottom of the local website.
(c:\Program Files (x86)/Common Files/Aladdin Shared/HASP/hasplm.ini)
Still not working?
Before contacting us, please perform the instructions below to collect more information to supply to us to further troubleshoot.
We suggest contacting your IT department for help in performing these steps.
Open http://localhost:1947/_int_/config.html on affected client machine.
Under "Basic settings" tab, check the boxes next to

"Write an Access Log File",
"Include Local Requests" and
"Include Remote Requests"
"Write an Error Log File"
"Write Log Files Daily"

Then click "Submit".
Enable API Licensing logs on the client machine :

Download hasp_97637.ini and open it in Notepad (or another plain text editor)


Note: If security issues are preventing you from downloading the file above,
simply create a plain text file with that name and copy/paste the following into that file:
broadcastsearch = 1
serveraddr = xxx.xxx.xxx.xxx
conn_priority_timeout=2500
conn_empty_timeout = 2500
conn_wan_empty_timeout = 3900
requestlog = 1
errorlog = 1


Change the line "serveraddr = xxx.xxx.xxx.xxx" to your license server IP address (instead of the x's)
Copy the hasp_97637.ini that you edited above to C:\Users\USER_NAME\AppData\Local\SafeNet Sentinel\Sentinel LDK\

Open a command prompt on the client machine and type "ping LicenseServerIPAddress" and then take the screenshot and share it
Open command prompt on client machine and type "tracert LicenseServerIPAddress" and then take the screenshot and share it
On the client machine, use any browser to open http://LicenseServerIPAddress:1947/ and then take the screenshot and share it
On the server machine, use any browser to open http://ClientIPAddress:1947/ and then take the screenshot and share it
On the client machine, try to start the Hydromantis product (ie. GPS-X, Toxchem, CapdetWorks, etc) twice to reproduce the error.
Zip and share the "log" folder created at C:\Program Files (x86)\Common Files\Aladdin Shared\HASP
Share the access_97637.log and error_97637.log created at C:\Users\USER_NAME\AppData\Local\SafeNet Sentinel\Sentinel LDK\
Please send all of the above information to support@hydromantis.com