Or you can contact us by completing the form below.

Hydromantis Environmental Software Solutions, Inc.
407 King Street West
Hamilton, Ontario, Canada
L8P 1B5

Tel: 905-522-0012
Fax: 905-522-0031

Email: info@hydromantis.com
Parking
Are you coming to visit us?
We recommend parking at the pay parking lot beside Queen St. (the entrances are off Market St and Napier St).
If you are only stopping in for a shorter period of time, there is also time-limited street parking on various side streets around our office building if you are able to find a spot (and don't mind navigating the maze of one way streets).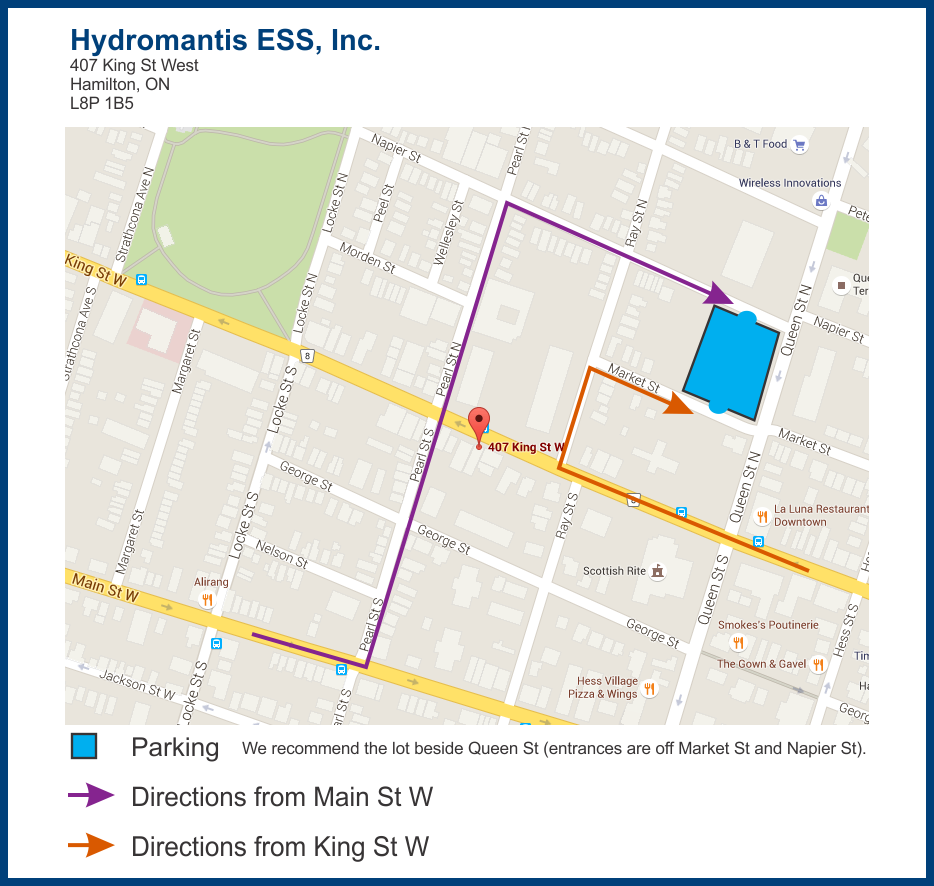 Mexico and Latin America
Jose Colli Misset
Director General
Consultores Internacionales en
Tratamiento y Reuso del Agua
Jiutepec, Morelos, México
Email: citraconsultores@yahoo.com.mx
Email: citra.consultores@gmail.com
Tel. +52 777 124 0533
Fax +52 777 124 0715
Mobile +52 777 207 3393

Korea
Jin Kim
HYDROSOFT
Suite 804, Mark City Yellow
129 Woonjung-no, Bundang-gu, Seongnam
Gyunggi-do, Rep. of Korea 13461
Tel: (82)-31-8017-8033
Fax: (82)-31-8017-8015
Mobile: (82)-10-3858-1914
Email: jin@hydrosoft.co.kr
Web Site: www.hydrosoft.co.kr