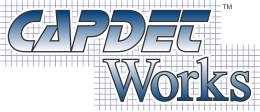 CapdetWorks Videos
Tutorial Videos
Tutorial 1
Learn how to create models, input parameters, and retrieve costing information about specific components.
Tutorial 2
Learn how to alter costs, override database costs and create a database with user defined costs.
Tutorial 3
Learn how to use the design override feature and changing the blower system parameters.
Tutorial 4
Learn how to perform a sensitivity analysis, interpret the data, and export the results.
Tutorial 5
Learn how to link data in multiple layouts to compare competing designs and generate an Excel file.